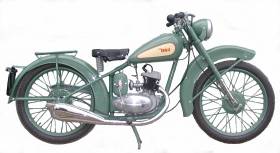 News from the shed
Summer again in the southern hemisphere and while Bantams (and their riders) may not enjoy 40 degree heat there are still some balmy days and long evenings for riding. A few more projects were completed over winter and while there haven't been any Bantams amongst them, we've been working on our existing bikes. If you have been chasing Rooster Ignitions for electrical parts for your Bantam the company no longer exists due to the sad passing of the owner. However, we suggest you contact Tony "Bones" Farmer at Oz BSA Bantams (bownz88@hotmail.com) who can help you with all your Bantam needs including CDI conversions. Highly recommended. If you are in the UK their agent is Dave Clough at www.bonescdi.co.uk.
In the "other projects" corner of the shed, the two military M20 BSAs owned and restored by Les and Jim have seen many miles and both are running very well.. Jim's civilianized WDM20 is finished and now has a lucky new owner. The link to the restoration is on the sidebar. Mick and his 600cc Panther have attended (and even hosted) a number of National Panther Rallys. Two 350cc Velocette MACs have been restored and are on the road - and the owners can even start them! My big 600cc side valve 1954 BSA M21 has now covered around 10,000 kilometres since the restoration and given great service. Read all about it here. The C11s are still getting out and about. Click here for the link to the C11 projects and follow Michael's CZ project here . Les' Bantam here.
If that all sounds like we've forgotten the Bantams. Not at all. The Bantams are getting out regularly and at least once a weekend we hear those magic words "I used to have one of them".
The big news is that Jim, Les, Mick, Peter and Tony now have their own Classic Adventures page. Read about the two (soon three!) great classic bike journeys.
Finally, and I hesitate to even mention this, but Don, Jim, Tony and Michael all bought Benelli 2C basket cases. I can only put it down to the lure of the two stroke. Read the tale of the Continental Affair here. After a couple of year's ownership and many miles I did it all again and restored another 2C. Read about the orange Benelli here. Worst of all, Michael's CZ 125 was the catalyst to an avalanche of CZ/Jawa ownership and restoration. Amongst the owners (five of us) there are now Jawa Californians, Type 634s, a Type 450, a Type 477 and quite a few more. Read about my CZ 175 Type 477 restoration here.
Who says there are no barn finds any more? Three D1s pictured recently. Work ahead for some keen restorer!

Machine Dating? What bike do you have? When was it made?

Under the "Resources" section of the website you can find a comprehensive, printable, engine and frame number list. Click here to see the list. The BSA Owners Club of Great Britain site also has an excellent listing of all BSA models and their engine and frame numbers.

Bantams by the Beach!

Bantams are excellent machines for weekend rides. Pictured here is my 1949 (foreground) and Peter's 1949. We rode about 60 kilometres on this day and stopped for this photo at Aldinga Beach in South Australia. One warning. Bantams attract crowds. Wherever you stop there will ALWAYS be an admirer with a their own Bantam story!

Our Restoration Code


We restore our bikes to ride. The guys in the shed crew reflect any typical group of restorers and have varying abilities, interests and resources. If you've spotted that my D7 has the wrong shocks or that the colour shade isn't quite right then you are probably correct. We're in this for the fun and none of our machines pretend to be concours.

A brace of Bantams!

One of the most enjoyable Bantam activities is riding with friends. Synthetic two stroke oils have eliminated "fouled-plug syndrome" and well restored and maintained Bantams will reliably (but slowly) cover reasonably long distances on ride days. The four bike below are pictured in the town of Willunga in South Australia. The bikes are: 1954 D1 plunger, 1949 D1 rigid, 1956 D3 pivoting frame and 1960 D7 swing-arm.
While you don't need to stop to fix the fouled plugs you'll note that coffee and cake is a standard requirement!

BSA WM20 Freshly Restored

Jim and Les' M20s looking ready for action!